Check valves・Buttefly valves
Our company is a specialized manufacturer of the check valves and has established the trust with customers based on experience and achievement for many years. We supply satisfied products with high perfomance, high quality, and strict delivery date in the future.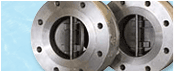 Check valves prevent the reverse flow of the fluid.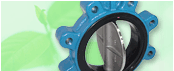 Butterfly valves control the fluid by turning the valve disc by 90 degrees.